Website Malware Scanner (WordPress & PHP)
An attack against your website by malware requires immediate attention and there are ways to quickly eliminate any infections while also protecting against further infections. Our free tool can remove all basic malware infections.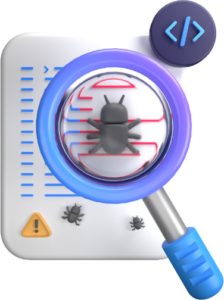 What Our Free Malware Scanner Do?
It can search for any unusual admin users, database accounts or FTP accounts which could have been left by hackers
as a means to regain entry to an infected website.
Website Block List
Checking
The website becomes obsolete if it is infected with malware and added to the list of 'blacklisted' website.
Phishing is a sort of online scam to collect information such as user account credentials, bank details, and more
Backdoors are critical because they allow access to admin even after the vulnerability is fixed that led to the hacking of the website.
A Trojan has very peculiar characteristics, it masks itself as a genuine file, but the content in it is always malicious with the intention to steal data and other confidential files.
Suspicious code is code that will add as malware practices to your existing source code & It can be found in your website templates, themes, plugins, & also in database.
Malware is (potentially) well-written software, indistinguishable from any other piece of code until it performs a malicious act. 
Symptoms of a Hacked Website
Hackers pose an ever-present risk to business, search engine rankings and even shutdown. Therefore, it is crucial to recognize the signs and take immediate action should any website hack be detected.
Signs of hacking on websites typically begin with an unexpected increase in visitor numbers, caused by hackers sending links out in spam campaigns that lead to your website appearing prominently in Google's spam results.
Malware could also cause your website to take longer to load than usual due to it consuming too many resources on the server. Furthermore, emails sent directly from your website may end up in customers' spam folders as malware sends email blasts via your server.
Another telltale sign of malware infection on a website is finding some pages either missing entirely, or showing errors, due to hackers using cloaking to hide their code from web admins and hide malicious software they've written themselves.
Hackers use HTML code changes to inject their malware onto websites. Unfortunately, surface scanners often miss these changes since they only scan the frontend for suspicious patterns or keywords. In order to detect changes like this on an entire server level a more comprehensive tool such as website malware scanner is required – thus fulfilling its role effectively.
Finding hidden files requires comparing the latest versions of your original source code with any modifications, however this can be time consuming and inconvenient when dealing with large files. Therefore it is wiser to utilize a malware scanner that quickly identifies differences in code.
An additional key step in website ownership is taking regular backups. This can allow you to restore an earlier version of your site in case something goes amiss with its hosting environment or content management system.
Defacement
Website defacement is a form of digital vandalism in which hackers use your website to advance a political, religious or ideological cause. While most hacks require intensive evaluation to detect, defacement tends to leave more visible signs than most. As such, preventive measures are key and it is vitally important that web security software remain up-to-date and any stored data backed up before defacement attacks take place on your server.
Regular website scanning to detect malware is also key for maintaining its security, with both free and paid scanners available to ensure its cleanliness. Some scanners specialize in specific platforms; others can scan websites of all different kinds simultaneously. Sucuri's remote website scanning service, for instance, is relied upon by millions of webmasters each year, offering security monitoring as well as helping resolve compromised sites.
Quttera provides both a free web-based tool and WordPress plugin to scan for malware, using cloud servers to conduct its scan without impacting website speed or performance. In addition, premium plans provide more extensive support services and security enhancement suggestions.
Disgruntled employees are another common source of defacement. If a former employee gains access to your server, they could alter its source code in order to deface your website – making a sound hiring process and careful monitoring employee activity all the more vital for protecting against defacement.
If your website has been defaced, you must take immediate steps to restore its integrity as soon as possible. Although this task may seem overwhelming, doing so is vital in protecting both customer relationships and brand values. Check for unauthorized users and delete any suspicious accounts; additionally perform a deep malware scan using MalCare to make sure it is clean.
Redirections
Redirects are URLs that send your web browser to another URL when the page you are trying to visit does not exist. There are various types of redirects, and each serves a particular purpose – for instance, websites may use 301 redirects to send visitors directly to a revised version of a page. Use of a 302 redirect is another effective method of notifying that an old page version has been taken offline, while employing malware scanners to check for malicious code or any potential security risks is essential for web security strategies. There are various online tools that can be used to scan websites for potential issues. One such is VirusTotal, which analyses URLs against over 60 different antivirus engines and reports whether or not any given file is infected.
Jetpack Scan is an easy-to-use tool that makes scanning any WordPress site for malware and other issues simple, offering automated scans with one-click fixes, priority support from Happiness Engineers and priority support via their Happiness Engineer team. Furthermore, each scan produces a detailed report which includes suspicious files identified and whether your website's status matches any malware blocklists.
Quttera is another free malware scanner available for WordPress websites that specializes in front-end pages and identifying suspicious or malicious files, reporting whether Google Safe Browsing lists a site as unsafe browsing and other blocklists are listed, providing more comprehensive reports than most free tools on this list.
Utilizing shortened URLs may be hazardous; an unknown destination could easily redirect them to an unwanted website by hackers. To protect against this happening, website owners can set up a 301 redirect back to the original page by adding a meta> element with its http-equiv attribute into the head of an HTML page and set its target attribute value as HTTPEQUIVALENT (henceforth abbreviated as httpequival).
An unsecure website can compromise visitors' security, leading to device or software malfunction. MalCare's solution makes this task easy by employing over 100 signals to examine website code and detect both simple and dynamic malware threats – ideal for digital conversion enterprises since its scan doesn't degrade performance during a scan and it can run at your convenience on-demand or regularly.
Spam
Malware on websites can steal sensitive data, track users' activities or infect their computers – as well as disrupt business operations by siphoning off revenue and damaging reputation. To protect against this threat, it's crucial that websites are regularly scanned for malware threats and steps taken to eliminate threats as soon as they're detected – here are a few tools you can use to detect and delete it from their website.
Spam messages generated from compromised websites are one of the telltale signs of their hacking. These emails typically go out to website administrators, visitors and even the owner directly; often used for phishing attacks or malware distribution. Hackers typically gain entry by exploiting vulnerabilities.
Once in, they can alter website codes and files as well as install malware scripts which allow for spam distribution, leading to visitors becoming infected by malware infections or even being tricked into clicking fake links, further damaging brand reputation of companies.
Norton Power Eraser, Bitdefender for Mac and HouseCall are among the many online scanners available to check a website for malware. These programs are user-friendly, providing quick scans of both computers and websites quickly without requiring additional software installations – perfect for users who do not wish to burden their system resources with too many apps at the same time.
Sucuri SiteCheck offers an effective free website malware scan that's compatible with any platform. Its powerful tool checks for hidden codes, iframes, external files and backdoors on websites as well as detect phishing attacks or security vulnerabilities on them – with an user-friendly interface and compatibility across the board.
Hacking websites is both expensive and time-consuming to repair, with hackers potentially creating serious disruption for website owners including database breaches, defacement and the spread of malware. Therefore, it's crucial to implement measures such as regular scans which detect early signs of hacking as early as possible to safeguard it against future attacks.